Steel Will Druid 240 Knife

Back to knives!!

Reviewed for M1911.ORG by John Caradimas

Some days ago, I received an email from a dear friend, Kim Cahalan. For those who do not know Kim, she is the owner of MediaDirect Creative, a organization handling marketing and PR for several companies in the firearms and outdoor industry. Kim's email was about a new company she works with, Steel Will Knives, who are producing (as their name implies) some interesting knives. Being a knife lover, I asked Kim if we could have a sample of Steel Will's knives for Test and Evaluation. Kim, being such a lovely person, obliged and not too many days later, a relatively large box was delivered to my door. Upon opening the box, I found this. 



I spent some time admiring the box, it is indeed quite rare that you can find such a nice-looking box, in the knives industry. Usually, they are quite unremarkable.

On the side of the box there was this label, showing the knife's model.



Steel Will sent me a sample of their Druid 240 knife, which belongs in their Druid Series. Druids are classified in Steel Will's Outdoors knives and consists of about 15 different models.

Unpacking

Upon opening the box, here is what I found inside.



Interesting to say the least. 

Further unpacking revealed these items found in the box.



Wow! This knife immediately draw my attention. The reason being, that I love this blade shape!!! I've first seen it on my Greg Lightfoot's 458 Magnum Millenium Tanto folder shown below.


The Greg Lightfoot's 458 Magnum Millenium Tanto shared the same blade shape with the Druid

There are two reasons why I love this blade shape. First of all, it is wide (as in top to bottom height being large), all the way to the front of the blade. This blade can't be broken, if you need to use the knife as a prying tool. 



See the Druid's blade shape

The second reason is that it gives the knife a swift cutting area, while at the same time it maintains a very sharp, strong point, capable of stubbing things with ease. So, score one for the Druid, for having a blade I like and many thanks to whoever choose that knife to send me.

Upon inspecting the knife (and reading Steel Will's site), I learned that the handle is made of TPE (Thermo Plastic Elastomer) while the blade (and its extension inside the handle) is made of 9Cr18MoV steel. Its length is 10.43" (or 26.5 cm) while the blade is 4.92" (or 12.5 cm, for those on this side of the pond). The blade thickness is .2" (or 5 mm, or 0.5 cm). The steel used for this knife, 9Cr18MoV, is a Chinese equivalent of the 440B steel. Slightly better performer than other similar steels, due to the increased amount of Molybdenum in its composition, and the addition of very small amounts of Vanadium. ~0.10% of Vanadium will not affect steel wear resistance in any meaningful way; however it does have a positive effect on grain refinement, which is always desirable. I am nowhere near being a metallurgist, so if you are more interested in the steel properties, please do a Google search. It appears that its composition makes it durable, rust-resistant and quite strong, which are good properties, as far as I am concerned. As far as the handle material, thermoplastic elastomers are (according to Wikipedia) a class of copolymers or a physical mix of polymers (usually a plastic and a rubber) which consist of materials with both thermoplastic and elastomeric properties. While most elastomers are thermosets, thermoplastics are in contrast relatively easy to use in manufacturing, for example, by injection molding. Thermoplastic elastomers show advantages typical of both rubbery materials and plastic materials. What this means for me, is that Steel Will uses an easy to manufacture polymer handle, which is very slip-resistant and very resistant to chemical errosion. Oh yes, it is also .... dishwash resistant, so you can clean this knife easily. So far, so good.

The piece of steel used to make the blade is extended all the way to the rear end of the knife, from where it protrudes a little. I do not think this edge is capable of breaking car glass (and unfortunately I do not have the materials to test it for that purpose), but it definitely can break things. The handle features a lanyard hole at its rear end too. According to Steel Will's site, the knife's main purpose is to skin game and in this role a lanyard could be a helpful thing.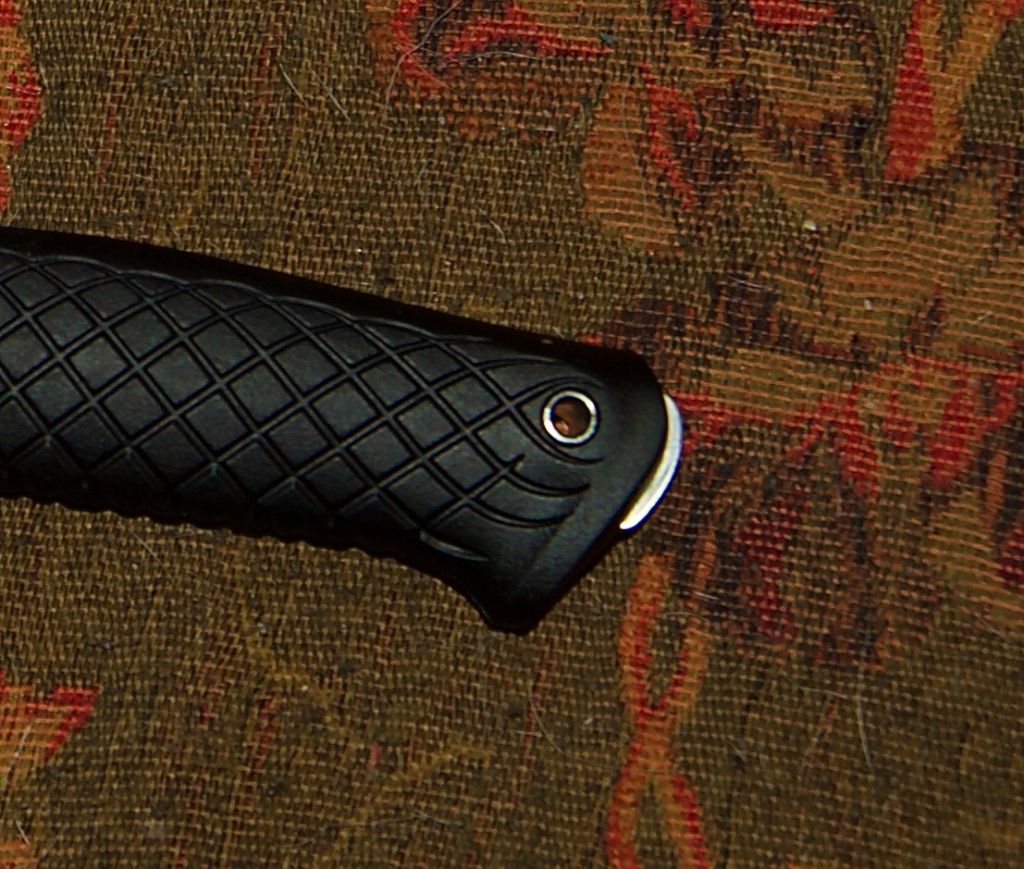 Here you see the surface of the handle, the lanyard hole and the protrusion of the tang at the rear of the knife

In Use

My usual first test, when I get a new knife, is to cut some slices of Ukrainian meat or salo. 



Unfortunately, I was out of this when the Druid arrived, so I had to do with some Ukrainian salami.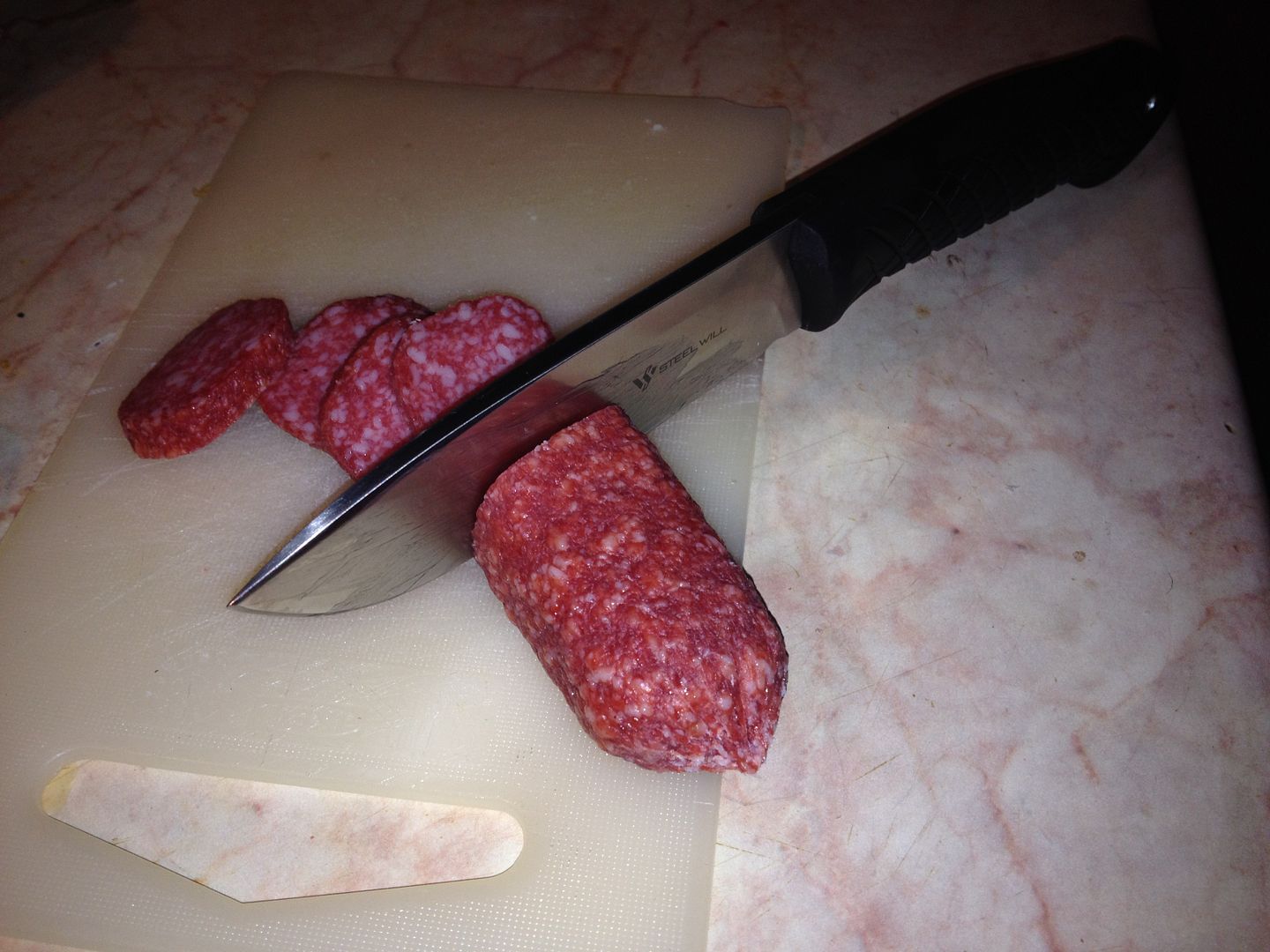 Interestingly enough, the knife didn't appear sharp enough. 



No problem, here comes my trusty Lansky sharpener kit. After a little treatment with the medium, fine and extra fine stones, the Druid was sharp enough to shave hair from my arm (I know, stupid test, but.....). And of course, it could now easily cut the salami. I also tried it cutting various other things, like ropes etc. (sorry, no manilla ropes, just plain ones) without difficulty. I continued using the knife both in the home (to cut meat etc.) and outside. I can't say that I've put it through any hardcore use, but after a couple of months of usage, it has maintained its sharpness just fine, so it appears that the Chinese steel is doing what it's supposed to do.

What I didn't particularly like about this knife, was its sheath. It is made of thick leather all right, but if you want to mount it on your belt, it is done by a leather loop, which is attached to the knife-carrying part with a ring. That means the knife is free to swivel as you move around. Also, the knife is secured in the sheath by friction only, I would prefer if there was something else to keep it there, but with the sheath being what it is, I guess friction is the only way to keep the knife in it.





I would prefer if the knife came with a Cordura or Kydex sheath, which could be rigidly mounted on one's belt or backpack strap. 

Conclusions

The Steel Will knife appears to be a nicely made, sensibly priced knife ($99.99 from Steel Will site) for the outdoor enthusiast. It is also a knife which can handle all chores you can throw at it, including self-defense, if the need arises. Its blade is strong enough to withstand hard use, its handle is non-slippery and with a different sheath it can be carried everywhere and deployed quickly. Needless to say, it's been my grab-for-whatever knife, since the day it arrived.


Acknowledgments

Special thanks to Boris Shekhman from Sport Manufacturing Group and Kim Cahalan from Media Direct Creative (http://mediadirectcreative.com/) for arranging all the details for the review of this knife.

Please go to this thread on the M1911 Pistols Organization discussion forum to discuss this pistol and this review:http://forum.m1911.org/showthread.ph...324#post983324

Find us on : 



Specifications


| | |
| --- | --- |
| Steelwill Druid 240 |   |
| Blade Material: | 9Cr18MoV |
| Overall Length: | 10.43" (265 mm) |
| Blade Length: | 4.92" (125 mm) |
| Finish: | Satin |
| Weight: | 8.85oz |
| Handle Material: | TPE (Thermo Plastic Elastomer) |
| MSRP: | $ 99.99 |